How to create a script
This article outlines the steps to create a script and its sections, and then linking everything together.
Note: Only admins and managers can manage scripts.
Step 1 — Start a new script
First, head over to Scripts > New Script
You'll be taken to the script entry page as seen below:
Give your new script a name and category in order to proceed to the script editor.
Tip: Need to create a new category? Go to Scripts > Categories
After you've added a name and category, you can start building your script. Click the Continue to Script Editor button as seen below.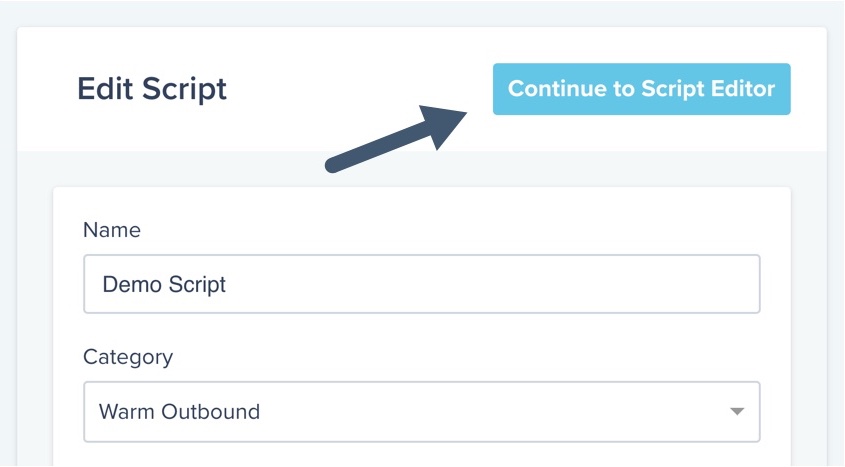 Step 2 — Create your Sections
Each section represent a single question to ask the customer or prospect and a list of potential responses.
Enter a name for the section. You'll identify the section by the name later, so it's best to be short but descriptive.
Enter a question. This is what the rep will be prompted to say during the call.
Choose Add Answer then fill in the answer. The answers will be listed in the order you create them and can't be reordered.
Click Create New Section to create another section for the script, then repeat these steps.
Step 3 — Link it all together
Once you've created the sections, you'll need to link them together. This will determine the flow of the script.
To start linking sections, click View Script Diagram in the top right corner.
Click on Unlinked Section to link a section to the answer for the above section.
Choose the section you want to appear next in the script.
Continue linking sections until you've created your entire script.
Tip: Click on a section to see more info about the section including the question and answers. You can also unlink the section's answers from other sections here.